Temperature Sensitive Goods

Climate Control for Temperature Sensitive Good during Transport
---
Why climate control?
Goods such as foods, drugs and chemicals are often temperature sensitive or sensitive to temperature variations. Incorrect temperature can lead to major financial losses in the form of damaged goods and, in particular, consequential costs in lost business and customer relations.
Temperature-sensitive goods can be transported in climate-controlled cargo carriers, alternatively in standard carriers, if the goods themselves are well-insulated. The choice of method depends on the type of goods, quantity, frequency, need for reloading and type of cargo carrier.
Forankra motto is "Secures everything in transit". Temperature control of goods in transport is included in our commitment. We offer different systems of highly efficient thermo-hoods for pallets, roller cages and other types of goods. We also have flexible systems of removable partition walls for refrigerated carriers. With these partitions, different temperature zones can be created in a fast and efficient manner, which increases the vehicle's possible fill rate.
Humidity Control & Thermo pallet hoods
We supply Data loggers and Ultra-Dry Products to ensure your cargo reaches it's destination in the same condition it was shipped in.
Forankra also offers a wide range of high-performance insulating thermo pallet hoods of the highest quality. We store and can quickly deliver hoods for roller cages and EUR pallets at different heights. In addition to our standard pallet hoods, we can customise the hoods format to required measurements.
With our highly insulating thermo-hoods, frozen goods can maintain the desired temperature up to 48 hours. Materials used in the hoods comply with food management requirements according to FDA, PGI, and REACH.
We supply Data loggers and Ultra-Dry Products to ensure your cargo reaches its destination in the same condition it was shipped in.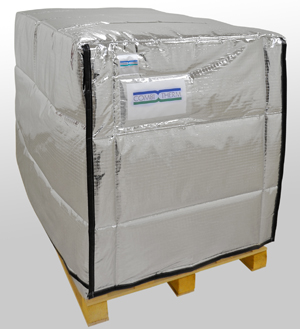 Application areas
Insulating pallet hoods allow time-limited transport of temperature sensitive goods on regular cargo carriers, but also protection of the goods during reloading or waiting time at the terminal or at another temporary storage.
Through the use of thermo-hoods, a comprehensive, cost-effective and environmentally-friendly alternative to energy-intensive refrigeration vehicles is obtained. The hoods are also a cost-effective solution for shorter distribution of food in LCV, which is now increasing as a result of internet commerce.
Transports of chemicals, such as paint and drugs, are other common uses.
Material properties
Our hoods are manufactured by COMBI-THERM, whose unique POLYWOOL® insulation material guarantees long life with retained insulation properties. The patented fiber has a unique resilient Zic-Zac shape, which is not deformed under pressure. The fiber always springs back and guarantees a full and insulating air layer in the material over time. The hoods can be manufactured in different foils depending on the desired properties.
Our standard hoods are made of a metal foil, which has very good reflective properties while being very resistant to abrasion and demolition. Up to 90% of solar radiation energy is reflected by this material. In other words, the foil combines excellent radiation protection with very good mechanical properties. The insulation material consists of 300gram / m2 POLYWOOL®.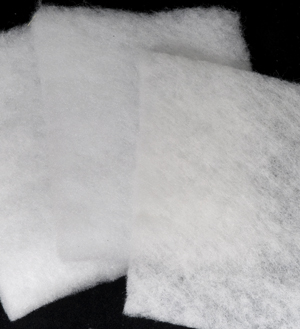 Partition walls for separating temperature zones in refrigerated vehicles
For refrigerated vehicles, we offer a number of systems for dividing the transport space into different temperature zones. Frozen and refrigerated goods can then be transported on the same carrier, which increases flexibility and fill rate, saving both money and the environment.
Thermo-walls are available in different designs; from our patented hard walls, which are easily applied and locked with gas springs, semi-hard walls that are easily clamped to the cabinets, to easy-to-handle soft walls that are applied with cargo bars. The choice is often based on the separate transport needs. All walls are easy to handle and the driver can easily adjust the temperature zones according to the actual need.
For advise and recommendations please, contact us.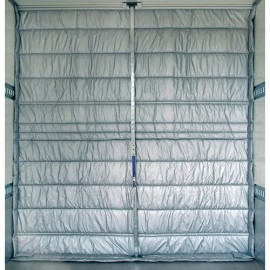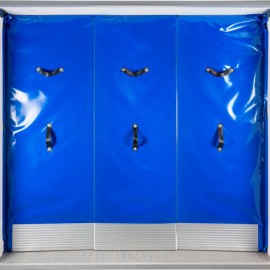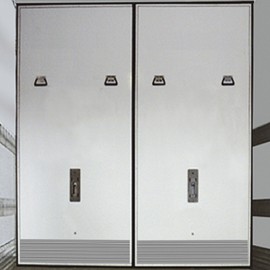 Soft thermo-wall Semi-hard thermo wall Hard thermo-wall

Useful information
---
There are many types of temperature sensitive goods. By using suitable thermo-products, you can prevent unwanted temperature changes, which can cause damage to the goods in transportation and temporary storage.

Services
---
Forankra services for transporting temperature sensitive goods:
Advice
Customized products and solutions